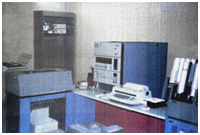 Working with computers - Part 2
I went to work for Lovell & Christmas Ltd., in Erith Kent. They rented an IBM System/3 Model 10D. This used 96 column cards as the primary input and had two disk drives each with a fixed and a removable disk. Each one was 2.5Mb.
The line printer produced invoices, sales analysis and a payroll. It was all programmed in RPG 2. I had six IBM card punches working flat out and a full time computer operator.
Later we added two remote System/32 machines at Bury St Edmunds, Suffolk and Downton, Wiltshire. These communicated over dial up at 1200bps simplex.
In 1973 I became a member of the British Computer Society, The Chartered Institute for IT, which promotes wider social and economic progress through the advancement of information technology science and practice.
At work I used FORTRAN IV, which I had learnt working at the National Physical Laboratory to write some mathematical modeling software to forcast the future of the company and the UK Economy. It did not look good.